PAUL SHUTTLEWORTH Mixed Up Shook Up Girl - The Solo Sessions 1977-1980 Angel Air SJPCD227 (2006)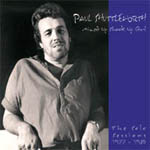 Former Kursaal Flyers man Paul recorded a lot of solo work in the late 70s, presented well here, with both singles and previously unreleased material.
The first few tracks here are produced by Mike Batt (of Wombles fame) and are soulful pop with big band/orchestral arrangements and the odd decent bass line. Both hits and misses, the music is pretty ordinary. Some nice touches to the vocals but nothing special about the music at all.
With hit producer Mike Hurst there's a more disco edge to some tracks, and rock on others, but the large arrangements continue. All very 70s. A couple have a big piano intro a la Bat Out Of Hell but the music is sadly nothing like that.
Only with the vague intro of a new wave sound does the music begin to become relevant.
Patchy, good in some places, cheesy in others, and the rest is passable.
**
Review by Joe Geesin


£12.99
Mixed Up Shook Up Girl
© 2006 Angel Air Records. All rights reserved.