Just witnessed your best live gig?..send us a review!
Latest gig review (Manchester, 21.4.11)
PAUL RODGERS
Albert Hall, London 3 October 2006
Last time Paul Rodgers played London he was at the Hammersmith Apollo, this time around it was the grander surroundings of the Albert Hall with many of the audience looking like they were on work's 'jollys' rather than rock fans! A decent sized crowd although not sold out.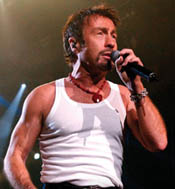 Deborah Bonham played a short set of her take on blues rock although sadly without drummer Jerry Shirley (ex-Humble Pie) who was unavailable due to a family bereavement. A solid set although it did miss a backbeat.
Young rockers The Answer were up next and they blew the cobwebs away. They have the sound of classic Free meets Led Zep so were playing to a target audience really.
They rattled through songs of their debut album including 'Under the Sky', the slide guitar led 'Preachin' and 'Never Too Late'. This band has the tunes and musicianship to break it big time and unlike the Darkness they don't need gimmicks to get their music across. For the band it was a perfect way to start their upcoming UK tour with fellow rising rock stars Roadstar.
Paul Rodgers and his band - guitarists Kurt Dengler and Howard Leese (Heart), Collective Soul's drummer Ryan Hoyle and bassist Lynn Sorensen - took to the stage with a clutch of Free classics including 'I'll Be Creepin', 'Be My Friend' and 'Ride On A Pony'.
The tour is partly to promote the new Free alums, a Best Of and live sets from the BBC. Sadly not much from his Bad Company days although he did dedicate 'Bad Company' to the late Bad Company bassist Boz Burrell and 'Feel Like Making Love' certainly got the many females in the audience all hot and bothered.
His days with the Firm were represented by 'Radioactive' and 'Closer' whilst the pick of his solo tunes had to be the hard rocking 'Saving Grace', simply awesome live.
Prior to the gig Paul Rodgers had let slip in an interview at the launch of the Free albums that he would be joined by a special guest guitarist. Rumours had everyone from Queen's Brian May to Jimmy Page (who worked with Rodgers in the Firm) as the mystery guest, but it was none other than hard rock turned bluesman Gary Moore.
He played two numbers with Rodgers (with Leese and Dengler leaving the stage for Moore to take centre stage), 'Standing Around' and 'Louisiana Blues'.
Moore was on top form and with Rodgers' blues voice you couldn't really go wrong. Free's 'Wishing Well and 'All Right Now' also got an airing but surprisingly Bad Company's classic 'Can't Get Enough' didn't, which was a shame. One new song as well, the anti-war song 'Warboys' which was okay but maybe needs a few more listens to fully appreciate it.
Encore time 'The Hunter' with Gary Moore back on stage and a Hendrix cover in 'Little Wing', with Howard Leese this time stealing the limelight with his soloing.
The final encore was Paul Rodgers on his own doing Bad Company's 'Seagull', a fitting end to a very enjoyable night. Shame it wasn't longer as he played for just over 90 minutes and as with any artist with such a long and distinguished career you leave the gig thinking 'why didn't he play...?' but, hey. he still has the voice and is a 'must see' live performer.
Review by Jason Ritchie