PAUL KOSSOFF 'Best Of' Track Records T1034 (2003)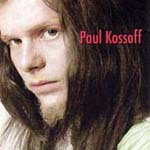 Paul Kossoff was the guitarist in Free and later in his own band, Back Street Crawler. This seventeen track compilation includes eight from his Free days including the classics 'All Right Now', the rumbling bass driven 'Mr Big' and 'The Stealer'. Can't fault these tracks as they are bona fide classics and more importantly showcase what a talented blues guitarist Kossoff was. The Kossoof solo/Back Street Crawler material follows the Free path of bluesy rock but with more soulful influences like 'Some Kind Of Happy'. Other highlights are the superb guitar on 'Back Street Crawler' and the Purple sounding 'Selfish Lover'.
A tragic loss to music at only 25 years old but without sounding corny, he really does live on in the music contained on here. Great CD to start as an intro to Kossoff's post-Free career plus the added bonus of Free classics.
****
Review by Jason Ritchie