Classic guitar rock but not value for money...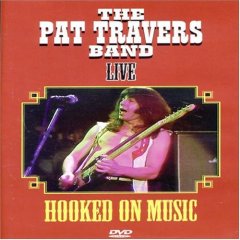 Despite a plethora of live albums by this genuine guitar god, this is a noteworthy release in dating from 1976, while the Travers' Band featured bassist Mars Cowling and drummer Nicko McBrain. Yes, he of Iron Maiden some 6 years later and to this day.
This line up recorded 2 classic albums in the late 70s, Making Magic and Putting It Straight, which are among his best works, and the music here is equally excellent. Whether technical fretboard workouts, classic solid and searing blues rock or the Iron Maiden connection are your interest, you'll love this.
The hour long set, recorded for German TV in Cologne, is somewhat lacking in the fireworks you'd expect from Travers, and the select audience polite (almost staid). That said, 'As My Life Flies', 'Step And Smile' and 'Hooked On Music' kick off in fine form, the sound solid, bright and punchy, the performance perfect.
The three piece clearly are enjoying themselves, with Nicko grinning throughout.
'You Don't Love Me' features a catchy riff and some hot slide guitar too, a stripped down version of Foghat perhaps. But it works and is thoroughly enjoyable.
If the band are a little understated, the music is electric and the classic 'Boom Boom' really rocks. 'Makes No Difference' closes, another classic number.
Sadly, with the short running time, there are absolutely no extras, not even a band line-up. Classic, almost essential music, but far from value for money.
***½
Review by Joe Geesin