Plant and Page's big breakfast...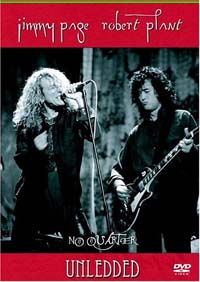 What hasnít been written about Led Zeppelin isnít worth committing to paper, or in this case, the ether. You either love them or are indifferent. And as youíre browsing getreadytorock, I think we can safely assume youíre in the former camp.
What we have here then is a mixture of acoustic and electric material recorded across the globe when Page and Plant got back together in 1994. And here, it is re-released (for the first time on DVD) on the 10th anniversary of itís premiere on MTV in October 1994.
And itís a generous helping - 17 tracks spread over 94 minutes with 23 minutes of bonus material including Black Dog performed at the American Music Awards.
It opens with an acoustic No Quarter. The visual imagery flits from the forests of Wales to Marakesh before finding our ageing rockers perched in a leafy glen aside a babbling brook. A little cheesy in hindsight. Thank You and What Is And What Should Never Be are full band jobbies at North African concert and excellent too. The extra pounds and lines not detracting from the performance in any way.
The Battle Of Evermore follows from the same gig with wonderful Ďlocalí backing musicians and Page on his three headed axe. Next up Gallows Pole, then weíre back to Ďstagedí countryside settings for Nobodyís Fault But Mine given a rootsy accompaniment.
City Donít Cry and The Truth Explodes take us back to North Africa, the latter being an explosive riff-athon in a market place in the dying embers of the day. Stunning. Oh to have been there.
When The Levee Breaks is a fairly faithful rendition and Since Iíve Been Loving You finds us back at the earlier concert. And wonderful it is - Page and Plant both in rude form. The Rain Song is given a gentle make-over with an orchestral backing, which is also used to superb effect on Friends and Kashmir.
At times it hard to believe they hadnít played these songs for years. But dusted down they still sound fresh and vibrant. The use of a sprinkling of local musicians also exposes some of the influences that were clearly there when the songs were originally written. Fascinating.
The bonus material is pretty hot too. The interview interesting. Black Dog cooks up a storm. And the Most High video a welcome addition.
To sum it up, the performances are faultless, it's beautifully shot and itís nice to see the material resurrected. But itís a bit like a full English - not quite the same without the sausage and tomato. But satisfying nevertheless. A must for any self-respecting Zep fan.
****
Review by Pete Whalley