PADDY MILNER 'Walking On Eggshells'
Bronze (2005)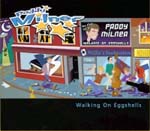 Although rock is a broad church, this second album from Paddy Milner veers towards Bublé and, more specifically, Jamie Cullum territory.
So if Michael Parkinson will be wetting himself over this, others may find it slightly derivative.
Milner has a fairly inoffensive transatlantic delivery, although Scots-born and Dorset-bred: A virtuoso pianist who has been feted by BBC Radio 2's Paul Jones and Jools Holland.
The album moves from bland jazz to blues crossover with the requisite couple of standards thrown in for good measure. If you wonder where you've heard 'The Unsquare Dance' before, it's on a Building Society advert.
And that just about sums up the album, really, it's glorified muzak for the Radio 2 listener who will never go digital. If Parky gets hold of this we're all, frankly, knackered.
***
Review by David Randall
Walking On Eggshells
© 2005 Paddy Milner/Bronze. All rights reserved.