OVERKILL 'Relixiv'
Regain Records(2005)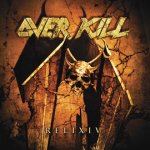 If you claim to be a true metalhead, you have long passed the age of twenty five and you've never heard of a band named Overkill before, then you should seriously consider changing your musical preferences! In the year 1985, this legendary New York outfit released their debut album 'Feel the Fire' – an album which kind of set the rules on how proper Speed/Thrash Metal music should be played. Twenty years later and thirteen albums down the line, founding members D.D.Verni (bass) and Bobby 'Blitz' Ellsworth (vocals) are still on the same mission. Having recently signed with the Swedish label Regain Records, the stubborn Americans are presenting us with their latest studio release 'Relixiv'.
Another album from Overkill - good God, It seems like it was only yesterday that I first got my hands on the 'Under the Influence' album. How fulfilling was it indeed to devour with my eyes the flying bat which was featured on the album cover as well as the four long-haired guys with their tight jeans and bullet belts posing on the back cover. Yep, that was indeed the beginning of the most successful period in the band's career – a career that was launched even higher with the following two releases 'The Years of Decay' and 'Horrorscope'.
One would wonder how this band managed to be around for so long, having fourteen studio releases in their arsenal and more that 2000 live shows behind them! Being a fan of this outfit for the last twenty years, I find the answer to this question quite simple – Overkill never compromised! Even at times when they were heavily criticised by their loyal fan base for their decision to follow a specific musical direction, as they did on the album 'From the Underground and Bellow', Ellsworth and Verni decided that it was more important for them to be honest with themselves and follow their musical vision, rather than create albums that would only please the 'suit and tie' executives of their record label. This is the attitude that they have had since the very beginning, and this is the same attitude they had while recording 'Relixiv'.
One way of describing 'Relixiv' is as the album where evolution meets tradition. Even though the band has been through quite a lot of member changes, most of which had to do with the position of the guitarist/s, Overkill managed to have a stable and quite characteristic sound throughout their career – a sound that's based on Ellsworth's high pitch vocals and Verni's up front and quite rhythmical bass tunes. You understand, of course, that 'Relixiv' is not an exception to this very important rule.
Let's see, though, what these ten new compositions really have to offer. Those of you who're more into traditional Overkill, will really appreciate songs like 'Within Your Eyes', 'Loaded Rack' (the main guitar riff in the beginning of the song sounds totally 80's), 'Pound of Flesh' and the amazing 'Keeper' – all of which are riff-based compositions, created by using the 80's classic Thrash Metal formula. That doesn't mean though that people who were introduced to the band by more recent releases like 'Necroshine' and 'Bloodletting' are not going to find this album to be of any interest. Dave Linsk and Derek Tailer, the band's guitarists, have also created a few compositions such as 'Love', 'The Mark' or 'Play the Ace', where all those punk and hardcore elements which are mixed with the typical Overkill sound give a different vibe to the whole album.
The last song of the album, entitled 'Old School', is a Punk anthem whose music is a tribute to the Ramones, and lyrics are a statement by band a to how things used to be at the beginning of their career. The last note of this song came fifty one minutes after I originally pushed the play button on my CD player…my impression? Having really enjoyed the band's previous release 'Killbox 13', I was not sure as to whether the new album would manage to meet the same standards. I am more than pleased to say though, that 'Relixiv' has not only managed to meet those standards but also to surpass them. Once again Overkill proved to be more than capable of recording good quality music that will bring many new people to their already established fan base. So, for those of you who have decided to join the rest of us Overkill maniacs after listening to 'Relixiv', I have one thing to say: 'welcome to the gutter, we've been expecting you!'
****½
Review by John Stefanis