OMAR & THE HOWLERS Bamboozled
Ruf Records RUF1115 (2006)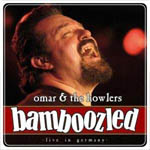 Armed with arguably the most unmistakable voice in contemporary blues, a deep emotive Howlin' Wolf style growl, Omar Dykes rolls into his 26th year of being a recording artist. 'Bamboozled' his third live album is recorded in Germany and is a typical down to earth Omar effort full of a lifetime's intuitive deep blues feel.
Hailing from Bo Diddley's home of McComb, Mississippi, Omar took the Diddley beat, the Wolf growl and a penchant for some steely riffs and headed for the hot bed of Austin Texas in 1976. The result was he broke on to the international blues scene, most notably with the lyrically biting and deeply ironic 'Hard Times in the land of Plenty', which is included here.
Since that time Omar has remained a rock solid part of the European blues circuit. Feted in Europe, revered in Texas and with a catalogue of well received albums behind him, he seemed to have almost done it all. But a move to Ruf gave his career the fresh impetus it needed and the result has been a rejuvenation of possible the most black sounding white artist on the blues scene.
'Bamboozled' is arguably the best of his live efforts, spanning the full spectrum of Omar's musical pedigree. This live in Germany set is marked out by swinging shuffles as on the title track, some full tilt boogie on his ode to John Lee Hooker 'Boogie Man', some deep blues on 'East Side Blues' and of course the Diddley beat on 'Magic Man', and 'Wall of Pride'. Omar adds some sparse but gnawing riffs and telling chord changes. He tops the lot with a voice that is imbued with all the feel and resonance of his southern upbringing.
Above all Omar is unafraid to stick to the simple things as exemplified on the stripped down 'South Congress Blues', and his moving dedication to his late wife on the autobiographical 'Muddy Springs Road'.
Omar is real quite simply the real deal, raw uncluttered blues. Scratch the surface and all you will find is more blues, and 'Bamboozled' finds Omar doing his stuff as only he can. The only blip is the fact that he appears to subscribe to the recent popular notion that is it cool to segue one song into the next without pause for breath, a minor blemish on a fine album.
****
Review by Pete Feenstra
Shake For Me
© 2006 Ruf Records. All rights reserved.