NILS LOFGREN 'Favorites 1990-2005 '
Rykodisc RCD 10804 (2005)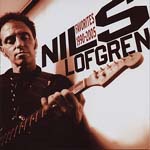 I seem to recall that at one point Lofgren was better known for his on-stage antics with a trampette - this gave new meaning to the phrase 'making things go with a bounce'. But, unfortunately some punters may have been distracted.
This self-compiled retrospective is, therefore, a potential vehicle for re-evaluation. It features tracks from his post 1990 output including the previously unreleased 'Tears On Ice'.
Lofgren was ever in the shadow of his erstwhile bandleader Bruce Springsteen as lynchpin of the E-Street Band with whom he's appeared off and on since the mid-eighties.
In his own right, Lofgren has produced a number of competent if somewhat predictable solo albums. There are some similarities with Springsteen - powerful, well-constructed, radio-friendly, but essentially very American rock.
With Springsteen, I can't deny the standout 'classics' but have never really taken to the artist who in 1984 was tipped as the 'future of rock 'n' roll'.
Away from his leader, Lofgren fails to hit the button for me, too. As a guitar stylist he's pretty damn fine but, really, he's a great musician to have in your band but you wouldn't necessarily want to take him home to introduce to Mother Stereo.
When Lofgren rocks, he rocks, ('A Child Could Tell', 'Gun And Run', 'Bein' Angry') and there are shades of Neil Young in places ('Misery') but all too often he's peddling country-tinged fare that could come from anywhere. Perhaps the trampette wasn't such a bad idea, after all.
***
Review by David Randall
Trouble's Back
© 2005 Rykodisc. All rights reserved.