NIGHTMARE The Dominion Gate (2005)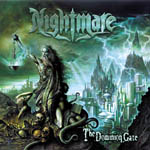 A blast from the past! Nightmare first got back together in 1979, a French answer to the New Wave of British Heavy Metal, releasing their debut album in 1984 on the back of a support slot with Def Leppard on the "Pyromania" tour.
However, it wasn't to last and after a brief spell with ex-Praying Mantis vocalist Tom Jackson, they knocked it on the head for over a decade. But 1999 saw the original members returning for another shot at glory, adopting a power metal approach to their music, an approach which met some appreciation on the Continent, and they played Wacken as well as touring with Blind Guardian.
Since then they've put out a few albums, seen members come and go, toured with Saxon, After Forever and now 2005 sees them back in the studio for "The Dominion Gate". A convoluted journey, but one worth taking, for this is an excellent release.
A combination of power and progressive metal, this album highlights an outstanding vocal performance from one time drummer, Jo Amore as well as some excellent arrangements and driving guitars courtesy of Franck Milleliri and Alex Hilbert. It's balls to the wall stuff with "A Taste Of Armageddon", "Endless Agony" and the title track the best of a good bunch.
With some complex, orchestral arrangements, powerful performances and top drawer songs and production, this is an unexpected delight.
****
Review by Stuart A.Hamilton