NICKEL CREEK 'Why Should the Fire Die'
Sugar Hill Records(2005)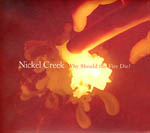 Nickel Creek are three young Californians – Chris Thile (mandolin), Sean Watkins (guitar) and Sara Watkins (fiddle). They all share lead and harmony vocals, and on this their third album are ably supported on basses by Mark Schatz. And for the first time, Allison Kraus vacates the production chair for Eric Valentine (Queens Of The Stone Age, Good Charlotte) and Tony Berg.
With Why Should the Fire Die, Nickel Creek take the bluegrass baton from the likes of Allison and takes it that further mile – creating a magically progressive acoustic blend of rock, folk and traditional music. And the playing is virtuoso throughout.
When In The Rome opens the album like a like O Brother on steroids –mandolin, fiddle, acoustic and bass coming at you with the power of Led Zeppelin. It's a wonderful opener and quite stunning bluegrass Celtic rock.
Somebody More Like You shimmers with beautiful harmonies and hooks. Jealous Moon and Can't Complain have echoes of Paul Simon at his best – aching vocals, lovely choruses and wonderful playing.
Scotch And Chocolate is a frenetic jam with more time changes than a Yes album. And Sara Watkins takes lead vocals on a gentle rendition of Dylan's Tomorrow Is A Long Time.
The second half of the album develops a darker mood – Eveline explores irregular tuning and a James Joyce short story. Stumptown is mountainesque. Anthony is pure theatre and Best Of Luck kicks out the jams – the story of the temptation and guilt of a forbidden love affair. It's a song that with the addition of drums, electric guitar and a Marshall stack could be a classic rock number.
Doubting Thomas slows the pace, while First And Last is a haunting piece. Helena builds and builds to a storming climax - Eric Valentine leaving the production booth to join the band on drums. And finally, as if exhausted the album closes with gentle and bittersweet title track.
****½
Review by Pete Whalley