Vintage Dolls, drugs and debauchery...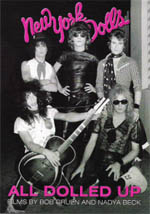 The New York Dolls have inspired a number of bands over the years, from The Sex Pistols and the Clash to Hanoi Rocks, Motley Crue and Guns n Roses.
This DVD contains material from over 40 hours of footage shot by photographer Bob Gruen between 1972 and 1975. Raw performances are inter cut with backstage footage, interviews of the band and news footage about the band from that time.
The debauched drug lifestyle, famously linked with the band, is evident but boy could they play!!
The footage is raw and in black and white, but is an honest documentary about one of the most underrated acts of their time.
Included are performances from such famous venues as Max's Kansas City and the Whisky-a-Go-Go, as well as TV appearances and full performances of 12 classic Dolls tracks.
This DVD is essential to any Dolls fan and a great introduction to anyone interested in finding out about the band.
*****
Review by Nikk Gunns