Just witnessed your best live gig?..send us a review!
NERINA PALLOT
Manchester The Lowry, 30 May 2006
There's been a lot of hype about Nerina Pallot over recent months. It's hard to pick up a newspaper or magazine without encountering a proclamation of this rising star.
But it's not been plain sailing. Her debut album - Dear Frustrated Superstar - bombed and although being critically acclaimed it's taken a major PR push by 14th Floor Records to bring Nerina and her second album - Fires - to the public's attention.
So with a GRTR! five star review under her belt and her single - 'Everybody's Gone To War' riding high in the charts, the question was - can Nerina Pallot cut it live?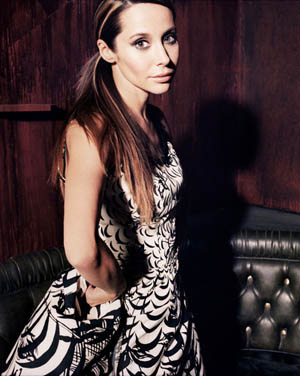 Well certainly The Quay's Theatre within The Lowry in Manchester's dockland is a wonderfully intimate setting - a small purpose built theatre holding about 6 - 800. And it was to a packed house that Nerina opened with If I Know You from her first album, delivering some nice piano work, excellent vocals and ably supported by drums, bass and a string quartet. It immediately brought to mind visions of contemporaries such as Sheryl Crow and Tori Amos.
The set was relatively short - encompassing most of Fires plus a quite superb cover of 'Confide In Me'. Nerina didn't say who the original was by - Google suggests Kylie (unlikely?) or Donald Fagen (a possibility as Nerina declared Steely Dan to be her favourite group). To me it sounded more like PJ Harvey or Nick Cave territory. Whoever, it was a wonderfully powerful number and a 'must' for her next album. There was also a couple of new songs - 'I'm Gonna Be Your Man' - a future single(?) -and a smouldering 'Grace' which she'd originally written for Faith Hill.
In short it was a truly magical performance. The material from 'Fires' more than held up to a stripped back delivery - many songs revealing themselves to be true gems. 'Idaho' was quite beautiful with some lovely piano work, there was a gorgeous slowed down version of 'Sophia', a wonderful version of 'Geek Love', and a delicate rendition of 'Mr King'. And then there was the more up-tempo 'pop' flavoured material 'Everybody's Gone To War' and 'All Good People'.
Nerina herself fluctuated between piano and guitar and provided between song banter that was both quirky and endearing. Throughout, her performance was impeccable. Sometimes, hype is just hype, but in Nerina Pallot's case it's justified - great songs, great playing, great vocals and a great presence.
Fame and fortune is a fickle thing, but on the evidence presented there's no two ways about it - Nerina Pallot has definitely got what it takes.
Review by Pete Whalley
Related>> Album review