NEO-PROPHET The Feeblemindedness of the Inept and the Ignorant www.neoprophet.com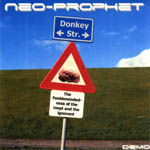 You have to warm to a band that wears influences on velvet sleeves, and profess that they have recorded in 'bedrooms, bathrooms and toilets, with very limited technical means...'
They are also fond of Leffe beer and 'melodic rock with a slight progressive 70-80s touch.' Obviously men of good taste, too.
This demo five-tracker has all the right ingredients: Floyd, Genesis (Hackett period) and late sixties pop influences. Humour and a certain quirkiness. And lots of musical excess.
The excess is actually well controlled. If you like your prog with the keyboards upfront and a glorious Hammond evoking memories of a golden age, this Belgian four-piece could be just your salvation.
There's a catchy tune to be had too, not least on 'Mr Smiley', 'Of Kings and Queens' (which develops into a funky little workout which hopefully they extend when playing live) and 'Blame It On The Weatherman'.
For me, Frank Debruyne's guitar is too low and thin in the mix and struggles against the keys in places.
An example is 'Unwritten Rules' which contains Genesis-esque guitar and keyboard harmonies, but really Debruyne's solo should have been cranked up to 11. And his electro-acoustic solo on 'Between Sun And Moon' doesn't quite cut through convincingly.
This is prog rock as it was played in the early seventies, melodic and measured rather than bombastic, and very European. All of the band are excellent musicians, with Hans Six doubling on vocals and bass.
'Between Sun And Moon' shows the band can play an attractive ballad, with atmospheric piano from Sjoerd Bruyneel and a 'Bohemian Rhapsody' vibe in places.
The band's honest approach to both the music and the business of making music is laudable and, if the production is low-budget, the quality of their music and their diligence shines through.
With the right amount of Leffe (both in the band and the audience) the full album could be more than a little interesting.
****
Review by David Randall


Mr Smiley
© 2006 Neo-Prophet. All rights reserved.