NEIL ZAZA'Staring At The Sun' (Mascot M70862) (2004)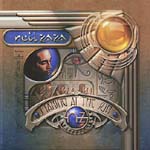 Neil Zaza is a virtuoso rock guitarist in the true sense of the word. A master of the genre, he is in constant demand worldwide for concerts, festivals and clinics. This CD features 12 of Neil's superb compositions, plus a cover version of Prince's 'Purple Rain'.
The tight and imaginative rhythm section on this CD are in the main Steve Smith, drums, and Ross Valory from Journey. Stu Hamm, bass, from Joe Satriani's band plays on 2 tracks, as does guitarist Michael Lee Firkins and drummer Robin Di Maggio. With Timothy M Bradford's polished keyboard playing and arrangements, the line-up is complete for what is a very impressive album.
The material shifts effortlessly from ballads to medium pace and break-neck rockers with ease.
'New, New Math' is a pyrotechnic display of 'gun-slinging' guitar playing. The track builds to a train-wreck finale where the guys in the band can be heard expressing joy (or relief!) at having got through this in one piece. Great stuff!
Following this cut are the tender and poignant ballads 'Rain' and 'Every Thought', both beautifully played with style and sensitivity, the latter having a wonderfully contemplative chord progression.
Other stand-out tunes include 'Fargo', a clever piece featuring some excellent slide guitar playing (Michael Lee Firkins?) and 'Definition', a powerful, medium-paced rock anthem with tasty guitar harmonies.
Prince's 'Purple Rain' is a brave choice of song to attempt as an instrumental but Neil pulls it off. The arrangement and sound are sumptuous, from the strings ection intro to the 'leaving you wanting more' climax.
A great way to end a collection of beautifully played and skilfully composed instrumentals - and not a filler to be heard!
****
Review by Ray Fenwick
I-Spy
© 2004 Mascot Records. All rights reserved.
***** Out of this world | **** Pretty damn fine |
*** OK, approach with caution unless you are a fan |
** Instant bargain bin fodder | * Ugly. Just ugly
Guest contributor

RAY FENWICK

Ray Fenwick is one of the true guitar greats. He's had a colourful career, replacing Steve Howe in the sixties band The Syndicats, Steve Winwood in Spencer Davis Group, and enjoying international success with Ian Gillan Band and Fancy. It was the latter band that also featured long-time friend and collaborator Mo Foster and vocalist Annie Kavanagh who also appear on the Ray Russell album.
More recently, Ray has been involved with coordinating many archive releases for Angel Air Records and has also toured with legendary pop producer Mike Hurst. In March 2004 he was invited by Yes guitarist Steve Howe to play the difficult second guitar parts on Steve's 'Elements' tour in the UK and Europe.