Tighter than a camel's arse in a sandstorm...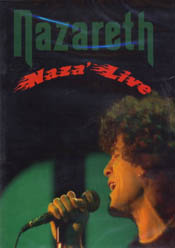 Originally recorded for Scottish Television back in December 1980, this set shows classic Nazareth at their best. Grossly underrated at this time in their career, this show was shortly after the had become a 6 piece, with the original line up of McCafferty, Agnew, Charlton and Sweet joined by second guitarist Billy Rankin (looking barely 17) and pianist John Locke (formerly of Spirit).
Tacky intro and annoyingly cheesy early 80s TV graphics aside, the band kick off with 'Razamanaz' (a true gritty hard rock classic if there ever was one), there's also the bluesy 'I Want To Do Everything For You', 'Big Boy', 'Hearts Grown Cold' and the then current 'Dressed To Kill'. Only 26 minutes but it's all pure joy. Heavy, rockin', a full solid sound that's tighter than a camel's arse in a sandstorm.
A bonus audio disc is the entire Glasgow 20/09/1981 set, 11 of Nazareth's best and more, that were previously spread across two other River Records set. Fans will already have but nice to have properly done on 1 disc.
Lack of previously unreleased material as extras is a shame, but Nazareth are one of Britain's most grossly underrated, overlook and undervalued commodities. Want to know why I'm making the fuss? BUY!
***
Review by Joe Geesin