NAZARETH Live From The Classic T Stage
Classic Pictures (2005)
Scottish rockers captured live, no audience...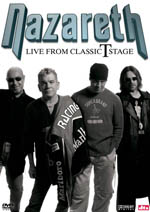 Nazareth went into the legendary Shepperton film studios to record a set of their classic songs. The sound is spot on and the performances are top notch as well. Only Dan McCafferty and Pete Agnew remain from the classic line-up but boy they still know how to rock!
All the usual suspects are here including 'Hair Of The Dog', 'Bad Bad Boy' and the simply awesome 'Razamanaz'. Of course the band had a few hits with other people's tunes and 'This Flight Tonight' along with 'Love Hurts' and 'Cocaine' are on this DVD.
The only strange thing is the lack of an audience and the band's interaction with them as Nazareth really are a band to see live.
Bonus wise we have a rather tedious film made on the band's tour of Germany – exciting shots of a tour bus and its driver anyone? Luckily the 'On The Road With Nazareth' saves the day with Pete Agnew and Dan McCafferty interviewed between clips of some of their music. They make a very funny duet with Pete Agnew taking the main spokesman role. Plenty of interesting insights to life on the road and the band's career to date.
Good DVD for the fans although as stated before it just lacks that audience feedback. The band seem to have fun and put in a solid performance.
****
Review by Jason Ritchie
***** Out of this world | **** Pretty damn fine |
*** OK, approach with caution unless you are a fan |
** Instant bargain bin fodder | * Ugly. Just ugly