NAZARETH 'The River Sessions'
River Records RIVERCD002 (2004)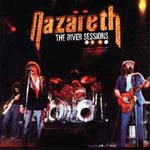 Nazareth were a hard rocking, hard gigging Scottish band who never quite made the premier division. I remember buying Hair Of The Dog way back when in advance of catching that tour at the Liverpool Empire.
Canít say I can recall much of that gig, and Hair Of The Dog found itís way into the second hand record stalls pretty soon after.
So maybe Iím not best placed to review this live set which was recorded at Glasgow Apollo and the San Houston Colloseum in 1981.
Mention Nazareth to most people and theyíll either look at you blankly or come up with the words Dan McCafferty and Ride My White Bicycle. Dan was a typically Scottish rough house singer with a voice like a bag of nails and the bandís ace in the pack. Ride My White Bicycle their most fondly remembered hit. Only Dan features in this package.
Trouble was, Dan was a little limited in the vocal department. Sure he could belt and holler like the best of them. But somehow he lacked the Ďsoulí of Bon Scott, Joe Cocker or Brian Johnson. And the other thing the band lacked was a killer songwriter. Hence their set includes a fair number of covers such as Shape Of Things (Yardbirds), Tush (ZZ Top), Cocaine (J J Cale) and Love Hurts (The Everleys).
That said, itís a perfectly good rock n roll album and representative of the band live. But that just about sums up Nazareth - perfectly good, but lacking that something special that makes a band great.
***
Review by Pete Whalley

Related>> Album reissues
Related>> Album reissues