NATURAL ACOUSTIC BAND
Learning To Live/Branching In BGO (2006)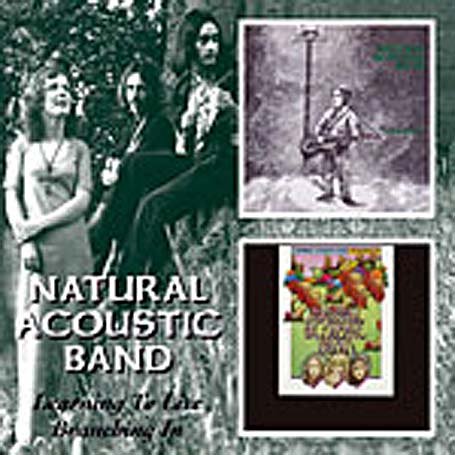 From the well-populated margins of the UK folk rock boom of the early 1970s, this boy/girl/boy hippy trio were exponents of the whimsical, 'new' acoustic folk peddled by the likes of the Famous Jug Band rather than the acid-folk trippers that the booklet notes would have us believe.
This reissue of their 1972 RCA albums is something of a game of two halves. Debut Learning To Live showcases the band's set list with few studio embellishments, the three harmonising clear vocals (led by the striking sound of Krysia Kocjan) in period acoustic settings augmented by session drums, bass and keyboards.
It's a charming and delicate exercise in grace and restraint drawn from a considerable repertoire from which the band would muster a speedy follow-up in Branching In where the whole package was ramped up for bigger things.
Line drawings of carolling Victorian children as on the cover of 'Learning To Live' were now ditched in favour of a more contemporary look for sleeve cover art, with smiling head and shoulder shots of the band set into updated art nouveau graphics (which with their spaniel ears barnets and day-glo tank tops has ironically aged far less graciously) and the production budget increased.
Deftly employed string section supports an even stronger set of material inspired increasingly by singer-songwriter and pop/rock sensibilities, garnished with a twist of that acid-folk in 'Is It True, Blue (There's Nothing Unnatural About Electricity)'.
Some fine songs make this package worth the price of entry and while the sixth form poetry lyrics have dated, the melodies and performances retain an original vitality from an act that - extinct by 1973 - was short-lived but not short-changing.
***
Review by Peter Muir