MY CHEMICAL ROMANCE 'The Ghost Of You' (2005)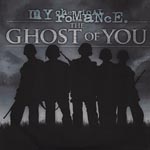 Sharp cut rollock 'n' rollers My Chemical Romance latest release 'Ghost Of You' taken from their second album 'Three Cheers For Sweet Revenge' is a song of epic proportions.
Combining lead singer Gerad way's haunting voice with heartfelt lyrics and a handful of crashing cymbals. Another winner from the newly crowned kings of twisted emo rock.
****
Review by Charlie Antczak
***** Out of this world | **** Pretty damn fine |
*** OK, approach with caution unless you are a fan |
** Instant bargain bin fodder | * Ugly. Just ugly