Just witnessed your best live gig?..send us a review!
MUDBONE Metro, London, 9 November 2006
Gary 'Mudbone' Copper probably won't thank me for reminding everyone that it is now over three decades since he lent his rich and powerful vocal style to the ground breaking Bootsy's Rubber Band. It was the beginning of a stellar career that went on to include Parliament, Funkadelic, and some wide ranging musical associations ranging from Prince and Herbie Hancock to Keith Richard, Jack Bruce and Dave Stewart.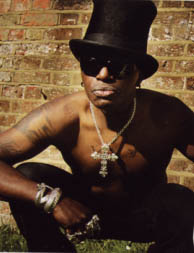 And it is with a combination of the latter collaboration, under the auspices of the innovative Scottish Influx label, that the French based American Mudbone finds himself with a belated debut solo album, and hence this showcase date at the Metro.
Mudbone cut a startling sartorial figure throughout, with his abrasive vocal style matching his tall hat, glistening rings and huge cross. From the moment he and his entourage swept into the room to transform a cold brutally painted disco into a hot sweaty post Hip Hop Funk party, you knew you were in the presence of a charismatic performer.
And while unlike his backing singer/female rapper, Mud never ditched his shades, his voice covered enough swooping highs and lows over a relentless funky backing band to remind you just how much of an integral component he was in the Bootsy and George Clinton's Funk scene.
And Funk is what the band delivered. Some of the songs crashed headlong into full blown rock guitar work outs and others started in a Hip Hop vein, complete with some vigorous scratching, and some socially aware raps as on the heartfelt 'Freedom's Coming'.
So what are we to make of an artist who cut his finest years way back in the 70's? On the evidence of this show, Mudbone still reserves the right to lay down some of the toughest funky grooves and occasionally temper them with a blues feel or a soulful groove. But as he helpfully explained at the sudden conclusion of a keyboard heavy funk number, 'I've come here tonight to kick your ass', and that's just about what he and his band did.
Just as the party was hotting up, the band suddenly disappeared, only to return in due course to deliver the impressive new single 'Make the Devil Mad' - a glorious melange of Rock Funk, Rap and Hip Hop. In the year 2006, Mudbone doesn't so much offer anything that is radically new but his talent lies in leaving a unique calling card that comprises a hard hitting musical journey unhindered by any musical barriers.
On the evidence of this show Mudbone's musical passion burns as brightly as ever. And while Pink fans may be in for a musical shock, the debut album 'Fresh Mud' might just kick start a whole new career for a fine vocalist and Funkmeister of the highest order.
Review by Pete Feenstra
---
| | |
| --- | --- |
| | Print this page in printer-friendly format |
| | Tell a friend about this page |