MUDBONE Fresh Mud Influx Records (2006)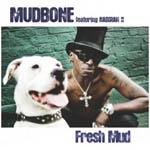 'Fresh Mud' is a superbly produced album that immediately sets the standard with the killer single 'Make The Devil Mad'. The following delicate intro to 'Karma'works up a beautifully played dynamic, fleshed out by a big drum sound and some heavy duty slide guitars over Nadirah X's rapped out narrative. And friends, that is just the opening two tracks!
And while the opening material's impact comes from the contemporary vogue for placing an avalanche of sound immediately after the opening verse, what puts Mudbone in the vanguard of Rap/Funk pioneers is his mellifluous voice, some ground breaking material and his diligent use of studio trickery to great effect, as on the tightly wrapped funk of 'Evil'.
Overseen by producer and one time Eurythmic Dave Stewart and topped by female vocalist MC, Nadira X, Mudbone's innovatory approach seeks to find a new cross over audience in the same manner as his former boss George Clinton's groundbreaking funky success in the 70's and 80's. There's much to recommend here including the phased production of 'This Old World (Visitors Mix)'and the whole album's success could be kick started with a club hit. Aside from the single the breakthrough could come via the autobiographical 'Boy From Baltimore' on which Mudbone adds a very soulful vocal over Nadirah's bv's which in turn twist into an edgy front line rap over a smoking backing track. There's no room for cliché here, as a blend of meaningful lyrics, cutting edge funk and classy mixes mark this album out as something special. Put simply, this is an excellent slice of contemporary Rap Rock and Funk with songs like 'Freedom's Coming'being the very best of a unique crossover genre.
Influx Records are to be congratulated for getting behind a cutting edge singer/song writer for whom musical boundaries are there to be traversed. On 'Come Together Now'for example, Mudbone beautifully fuses Gospel, Soul and Rap to great effect.
As the name suggests 'Fresh Mud'is something new and is full genre busting songs, including a reprise of the Isley Brothers feel on "Where the Wind Lives'which is predicated on a great hook. Dave Stewart on guitar and Antonin Bastian on harp add marvellous contributions to the blues outing 'Stranded For Life', and Candy Dulfer adds a sinewy sax lines on the self explanatory 'Life Can Be The Greatest Thing'. Hell, even Bob Dylan makes an appearance on piano on the closing 'Home'
'Fresh Mud' is a wonderful melange of all that's good in contemporary music. Take a chance and go out and buy it, as a wonderful surprise awaits.
****
Review by Pete Feenstra