VARIOUS 'The Very Best Of MTV Unplugged 3'
Universal Music 982 397-1(2004)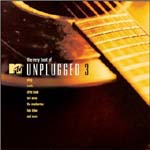 Warners trawl back through their MTV unplugged catalogue for the third volume in this series. This time, released in a is a neat CD + DVD format - every track being on both.
There's nothing totally new here (although 11 of the 17 tracks are supposedly 'previously unreleased') and most come from a good few years back when most of our heroes and heroines (Alanis included) had better heads of hair. And many of the artists feature on the earlier compilations - REM, Sting, Clapton, The Corrs, and kd lang, for example.
There's (yet another) nice version of Message In A Bottle by Sting, REM are in particularly charming form with It's the End Of The World As We Know It, there's an excellent version of Battle Of Evermore by Page and Plant (from the recent No Quarter Unledded DVD) and Paul Simon manages to deliver a reggae-ish version of Bride Over Troubled Waters.
A very young Sheryl Crow gives us Leaving Las Vegas, and we get a fairly standard version of Blue Hotel by Chris Isaak. The Corrs Runaway is suitably glossy (lifted from the 1999 CD/DVD unplugged release). But it's acts like Kiss 'unmasked' who give a properly acoustic rendition of Sure Know Something.
Bryan Adams and Sir Elton are excellent (the latter on Benny And The Jets). As are The Cure with Boy's Don't Cry. Elsewhere there's material by Clapton, Alanis, kd lang, Hootie And The Blowfish, Alice In Chains and Live.
The MTV unplugged format won't be new to anyone reading this, so there's no surprises. But from my perspective, the release works best on DVD where you have the visuals to supplement the soundtrack. It adds to the enjoyment and the entertainment, so hats off to Warners for the CD + DVD format. Highly enjoyable.
****
Review by Pete Whalley