MSG Heavy Hitters The Store For Music (2005)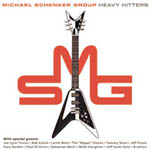 Michael Schenker returns with another covers set and this time he has some big name vocalists and musicians on board.
Now many fans of Schenker may despair that he is not writing new material but when you hear some of the songs and vocal performances on here even the most critical fan must surely tap their foot in enjoyment.
Highlights? Got to be UFO's 'Doctor Doctor' not only for the orchestrated intro but you get Jeff Scott Soto singing up a storm over Schenker's guitar wizardry. Oh and some damn fine bass from Soto's fellow Soul SirkUS colleague Marco Mendoza (ex-Thin Lizzy/Whitesnake).
Former Judas Priest vocalist Tim 'Ripper' Owens gives a neat rendition of Sabbath's 'War Pigs', whilst Gary Bardens (Statetropper/MSG) has fun with Gary Moore's 'Out In The Fields'. Special mention to original Iron Maiden vocalist Paul Di'Annio who rips through Nazareth's 'Hair Of The Dog' with Schenker laying down some slide guitar.
A few misses for me with Joe Lynn Turner sounding weak on 'All Shook Up' and as much as I love the vocals of Styx's Tommy Shaw, he fails to shine on the version of Pink Floyd's 'Money'.
Damn near essential for Schenker fans and he really does play up a storm on much of the album. Let's hope he is fired up enough now to do a new studio album.
****
Review by Jason Ritchie

Blood Of The Sun
© 2005 The Store For Music. All rights reserved.
***** Out of this world | **** Pretty damn fine |
*** OK, approach with caution unless you are a fan |
** Instant bargain bin fodder | * Ugly. Just ugly