Just witnessed your best live gig?..send us a review!
MOUNTAIN/Trafficker
Boom Boom Club, Sutton, Surrey, 4 June 2006
Charisma is sometimes an oft overlooked quality. At times hard to pin point, and not always immediately apparent, the charismatic figure can emerge as anything from a saint to a maverick. And in the case of Mountain's Leslie West, perhaps the latter applies and his unique charisma comes with a heavy dose of gruff New York cynicism.
Yet whichever way you look at him, Leslie is a figure with real presence, from his sizeable gait to his cryptic wit that borders on the downright irascible. Then there is his trademark heavy metal power chords, and grating tone, not to mention a guttural style of singing that often substitutes a scream for feel in some hard rock blues outings.
Ritchie Scarlet (left) and Leslie West. Photo © Roger Ford.
Complete with blue tinted shades Leslie is the kind of man for whom the word legend would sit quite comfortably with him even if his was not an enduring rock musician of substance.
And damn it all, he is man of history, a heavy weight guitarist who announced his presence on the world stage at Woodstock and went on to add memorable guitar lines to the late Felix Pappalardi's lyrics and mellifluous bass lines. The other main character in the band remains drummer Cocky Laing (keyboard player Steve Knight having long since departed). Corky who turned in a thunderous performance with a splash of toms toms and snare drum, obviously decided that as this was the final night of the tour he would turn in a command performance, of which more later.
Goth bass player Ritchie Scarlet (a guitarist turned bass player) danced energetically - a suitable foil for Leslie's more studied approach - and the band kicked into a set that was basically the best of Mountain plus some hoary old blues, and an acoustic interlude with Leslie delivering an impassioned version of Dylan's 'Blowin In The Wind'.
'Theme For An Imaginary Western' showed Leslie has lost none of his raucous growl, and 'Nantucket Sleighride' still remains an all time hard rock classic, albeit it came with an instrumental Stones break in the middle.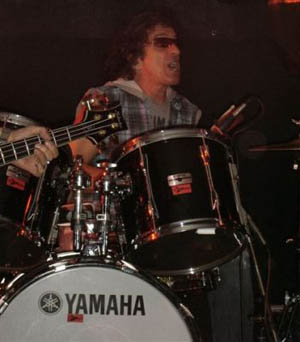 Corky Laing. Photo © Roger Ford.
Corky duly climaxed the show with a Keith Moon drum trashing sequence. Having already launched over a dozen drums sticks into the crowd, Corky took off like a guided missile and disappeared into the front rows of admiring fans. Quite a finale then, topped by a final fierce some growl from Mr.West who delivered an awesome 'Mississippi Queen' as the encore.
So what does a charismatic figure do with a trashed drum kit all around him? On seeing Corky enveloped by the roaring crowd Leslie announced deadpan, 'He gets lonely'. Then unbelievably he started applauding the audience for their enthusiastic response. Fewer stranger moments have happened in rock & roll. Then he turned, he waved one more time and he was gone. Earlier young guitarist Tommy Allen and his power trio Trafficker had rocked the crowd with a mix of melodic hard rock and good time boogie, nicely setting things up for a truly memorable show
****
Review by Pete Feenstra
Related>> Album review