MOUNTAIN Official Mountain Bootleg Series
Voiceprint (2005/6)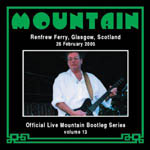 Taken in order of their performance these four volumes are part of the huge ongoing Mountain re-issue programme by Voiceprint.
The four CD's are an amalgam of bootleg and desk tapes apparently culled from Leslie West and drummer Corky Laing's personal collection. And although there is much to be said for issuing live tapes - Zappa set the trend with some starling live albums - much of the material here is of poor sound quality with material oft repeated.
That said, completists will probably wish to snap up Volume 7, which is actually a pre Corky Laing line-up.
The Woodstock set (Live at the Woodstock Festival/New Canaan H.S. Volume 7 Voiceprint VPTMQ017CD) is unsurprisingly a little circumspect given the band were probably taken aback by the size of the crowd at this their debut gig.
Nonetheless there is a fine rendition of 'Long Red' on which Lesley screams the house down, but also shows himself to be an expansive and melodic player over some subtle bass lines from Felix.
Pick of the bunch is probably 'Blood of the Sun' which despite lamentable sound quality is surprisingly short and succinct (Leslie reprises the song superbly on volume 13). **
By the time of the Fillmore East gig in December 1970 (Live at the Fillmore East 1970 Volume 5 Voiceprint VPTMQ014CD), the band are to be found previewing their best material most obviously 'Mississippi Queen' and 'Nantucket Sleighride', though perhaps they save their best performance for the melodic 'For Yasgaur's Farm'.
However, the CD should again be approached with caution, as the sound quality is as poor as the performances are good. **
The 'New Year Concert 1971' (New Year Concert 1971 Volume 14 Voiceprint VPTMQ047CD) is an altogether better purchase being a full concert spread over two CD's with slightly better sound.
All the CD's contain duplicate tracks and in that respect this is the best of the historical purchases. ***
However, shoving history aside, current Mountain fans would certainly be advised to purchase 'Live at The Renfrew Ferry' (Live at the Renfrew Ferry 2005 Volume 13 Voiceprint VTPMQ046CD), which aside from a laborious drum interlude is much better than much of Leslie's recent output.
The live concert is surprisingly good and Leslie is both funny and musically impressive by turns, and adds an acoustic interlude that includes an unlikely but passionate reading of Dylan's 'Blowing in the Wind'. ***
Most of the volumes will be for die-hard fans only thus reflecting the ratings.
Review by Pete Feenstra