MOUNTAIN 'Greatest Hits Live!' King Biscuit KBCCD119 (2003)

Mountain were a seminal super-group. Whilst paying their debts to the power trios of the late sixties, in their own short lifetime they forged a distinctive sound chiefly centred on their guitar player Leslie West whose rotundity gave new meaning to the term "heavy rock".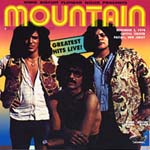 This concert recorded for the King Biscuit radio programme in the States in November 1974 captures the band close to their peak, and is rightly called "Greatest Hits Live!" Together with Felix Pappalardi (vocals, bass), Corky Laing(drums) and rhythm player David Perry, West paid his dues to Clapton, Green, Lee and riffmeister-in-the-sky Hendrix. It's a nicely-put-together package as part of the King Biscuit reissue series, with informative notes, photos and a bonus interview with Leslie West.
The keen-eared may note the inclusion here of the band's signature 'Nantucket Sleighride' which has been used in various guises in TV advertising and incidental music. This tune is a bit like that other guitar melt-down 'Freebird' and the effect is that you just want shut of the lyrics to get on with the heads-down no-nonsense riffing.
Mountain imploded soon after this recording and an authentic reunion was later complicated when Pappalardi was shot dead by his wife in 1983. Somewhat dated maybe, but for a few years at the start of the seventies this is where heavy rock music was at. No doubt West's seamstress was on a roll too.
****
Review by David Randall

Nantucket Sleighride
© 2003 Voiceprint/King Biscuit Flower Hour Records Inc. All rights reserved.
Related>> Album review