MOTT THE HOOPLE Live Fillmore West, San Francisco
Angel Air SJPCD226 (2006)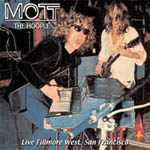 Classic British hard rock, recorded on their first US tour, back in July 1970 at this legendary West Coast venue.
The band were barely a year old but had already built up a strong live reputation in UK and Europe, and it's easy to see why on this evidence, with the Americans (showing some taste) warming to them pretty quickly.
Slightly ropey recording, but it's worth it, as it's pure sleazy rock'n'roll. Their take on 'It'll Be Me' is excellent, and there's some fine hard uptempo blues rock in here too.
A real insight into the band and, with the excellent sleevenotes, a real piece of history too. Early days for the band so none of the hits you'd expect, but fan or otherwise this is a good if rough live album. And a previously unreleased studio track from 1969 as a bonus too.
****
Review by Joe Geesin


£12.99
Roll Away The Stone
© 2006 Angel Air Records. All rights reserved.