Greatest hits including the naughty bits...
MY GOD!!!!!!!! This was a beautiful review to do. Mötley Crüe were always one of my favourite bands but this review is in no way biased, my girlfriend did not really know much about Mötley Crüe before she watched this DVD but was soon won over by what she saw.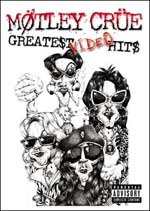 Mötley Crüe really have done it all, anyone who has read the book The Dirt will agree to that but even the casual fan will appreciate the remastered sound and great feel of the 21 videos here.
All the favourites are included and in the extra footage are 6 uncensored and alternate videos. There is also new interview footage of Nikki Sixx and Tommy Lee giving an insight to some of the greatest moments in the videos- although I'm not sure if I like the way they have treated the footage to make it look old fashioned, after a while this gets a little annoying.
All in all, though, this is a great collection and certainly shows why Mötley Crüe were one of the most popular and best selling bands of their genre. Rumours are afoot that the original line up will regroup for a farewell tour next year and there is also a film version of The Dirt due for release. All in all this DVD is a great testament to a fine band.
****
Review by Nikk Gunns
© 2003 All rights reserved.