MOTHERTRUCKER Electric Blacksmith Gallipoli Records (2006)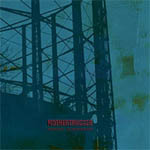 Having been around since late 2003, Mothertrucker took just over a year to release their first mini-album, named 'The Last Ride Of Dr Sanchez'. The four piece from Birmingham in the UK are back with this second mini-album, 'Electric Blacksmith', which consists of five tracks.
With a mix of influences, Mothertrucker are instrumental and could be described as stoner rock, post-rock and metal with a bit of doom thrown in. The first track, 'Horn Of Edwards', begins with a fuzzy, slightly psychedelic guitar sound which is joined by a great bassline before the drums kick in to really get things moving. And move they do. Throughout 'Electric Blacksmith' Mothertrucker display a great deal of technique, including harmonic guitars veering off into counter-melody and back again to merge into harmonics, the relatively simplistic 'Horn Of Edwards' contrasted by the intricate guitar work of 'The Russian', builds and the under-used technique of a descent at the end of the 'Kings Of Kabaddi', which is also a great way to round off an excellent mini-album.
So the technique is there, how about the composition? Well, I can't really fault that either. Although perhaps too repetitive and lengthy for some, fans of Capricorns or Electric Wizard are likely to appreciate Mothertrucker's sound. For those less familiar with the stoner/doom/fuzz genres, 'Electric Blacksmith' is perhaps not the most gentle introduction to the scene but you could do worse. There are passages that have a distinct Sabbath feel, and the influence of Kyuss is felt throughout so if you are familiar with the better-known bands that should offer some comfort. If you do like any of the aforementioned bands, if Mothertrucker do not appeal on the first try they may well grow on you.
As I've already said, Mothertrucker have demonstrated a lot of different techniques and this means that 'Electric Blacksmith' goes through a quite few changes during its five tracks, such as the slow intro to the second track, 'The Russian', and the quiet passages in the third track, 'The Taking Of Planet 55' and the fourth, 'Dark Destroyer'. Despite this, for the most part Mothertrucker have used a deceptively simplistic style on 'Electric Blacksmith'. It is the antithesis to over-complexity and over-intensity, while still retaining its heaviness.
'Electric Blacksmith' takes the listener on an interesting journey of ups and downs incorporating many influences, styles and techniques without over-burdening the ear with too much information, and without compromising on heaviness. It is very likely to appeal to fans of stoner rock and post-rock, and also some fans of doom and metal.
****
Review by Amanda Hyne