MORRISSEY 'You Are The Quarry' Attack/Sanctuary (2004)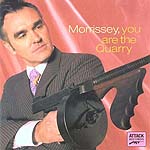 The return of Morrissey is like the Second Coming. To many he was the saviour of the eighties, but it seems for a decade he has been peeling grapes in sunnier climes in LA, happy to keep his muse away from wet Wythenshawe.
With The Smiths, Morrissey had a brilliant collaborator in Johnny Marr. For this album he has teamed up with guitarist Alain Whyte, and to great effect. An excellent backing band make sure it is no eighties nostalgia trip. And producer Jerry Finn(Blink-182, AFI and Green Day) is largely responsible for the "louder sound" that Morrissey sought to distinguish it from previous works. The opener 'Irish Blood, English Heart' sets the tone of what is a very high quality return.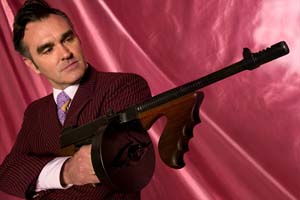 The lyrics? Well, as expected, the man is as individual and enigmatic as ever and a range of subjects come into the firing line from politics to the Munich Air Disaster. The cover depicts Morrissey as a gangster - ready to gun down those for whom he reserves his most vitriolic broadsides? It is certainly a dramatic re-entrance in what is a superb comeback.
****
Review by David Randall


£12.99