THE MOONDOGS 'The Blues'll Get Ya' Market Square Records MSMCD131 (2004)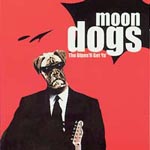 The Moondogs are essentially a trio comprising Derik Timms on gtr/vox, Graham Walker drums and Eddie Masters on bass, plus some very special guests, ranging from Jim Rodford and Rod Argent from the Zombies to the ubiquitous Steve Simpson and Jethro Tull's Clive Bunker.
The de facto crème de la crème of the Bucks/Herts music scene bring their collective musical acumen to bare alongside the considerable guitar playing/song writings skills and vocal prowess of former Brewer's Droop guitarist Derik Timms. In short The Moondogs impress with a batch of fine songs in the blues rock genre and a handful of judiciously chosen covers.
'The Blues 'll Get Ya' is a very apt title and as Derik Timms himself humorously notes on the back of the cd box, 'This album will do what it says on the tin''.
The set opens with an impressive steely riff'd shuffle titled 'Everything'. The following fine reading of The Allman Brothers 'Midnight Rider' is nicely juxtaposed by the funky reggae undertow of the Steely Dan sounding 'Travelling Show', which features a brief Rod Argent organ solo. From this impressive opening alone, it is readily apparent that The Moondogs offer a rare combination of experienced players, fine material, and quality recording values.
Highlight of the album is the Derik Timms/Steve Simpson penned 'Blue Tatoo'. While being very derivative of Steam Packet it enjoys a Proggy feel right down to the repeated hypnotic riff, the slightly distorted voice and the searing slide guitar over a subtle percussive pattern, courtesy of Kwaku Dzidzornu.
The following brace of blues including the title track take the band back to their roots, including a relaxed version of 'Little Red Rooster'.
Derik adds some pithy wah wah as the band rocks out impressively on 'That's What She Said' and he brings a swampy feel to the languid but subtly impressive 'Hitman', complete with a searing guitar solo and a close to the mic intro.
The whole set is nicely rounded off by a tub-thumping rendition of 'Baby Please Don't Go'. Notable for its train time rumbling bass courtesy of Jim Rodford, the number is driven by a pulverising back beat, and the resulting musical tension is punctuated by Derik's incendiary guitar lines. This imaginative, cutting edge arrangement of a traditional rocker is the perfect summation of a very fine album indeed.
****
Review by Pete Feenstra
Everything
© 2004 The Moondogs/Market Square. All rights reserved.