THE MONKEES The Platinum Collection Volume 2 Warner (2006)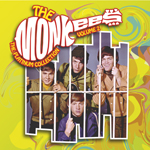 Second volume and one with not so many recognizable hits on it save for 'Last Train To Clarkesville' and the jangly pop of 'Pleasant Valley Sunday'.
Some other lesser known gems on here though like 'Words' and the theme from the film 'Head' – 'Porpoise Song'.
Worth a go for those seeking the band's output outside of the usual 'Greatest Hits' fayre.
***
Review by Jason Ritchie
***** Out of this world | **** Pretty damn fine |
*** OK, approach with caution unless you are a fan |
** Instant bargain bin fodder | * Ugly. Just ugly
get ready to rock is a division of hotdigitsnewmedia group