MONICA QUEEN 'Return Of The Sacred Heart'
Vertical (2005)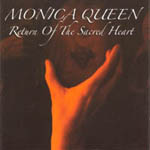 Monica Queen are, in fact, Monica Queen and Johnny Smillie. They were once members of Thrum a critically acclaimed indie act influenced by the likes of Patsy Cline and Neil Young. And in previous incarnations Monica has also worked with those other indie darlings Belle and Sebastian.
Return Of The Sacred Heart appears to have been endorsed by the Scottish Arts Council. It's almost akin to saying – 'this album could damage your health'. If you were contemplating slitting your wrist, this could be an ideal accompaniment.
Not that it's a bad album – it's very ethereal and haunting. But it's not uplifting. Queen's vocals are sweet and wavering in the upper Kate Bush register. Fly Away has an almost Celtic feel. The Passion has a monastic feel. Return Of The Sacred Heart has some really nice guitar work. But for the most part the vocals just float monotonously above a choir of multi layer vocals and gentle guitar work.
Nice if you like that sort of thing. It's exactly the sort of music you would expect to be playing on a cheap stereo in an establishment selling Scottish Art Council fare. Arty farty 'lift' music.
Mind you, I may be alone in thinking Belle And Sebastian are 'pish'. If you share that view, avoid Monica Queen. If, on the other hand you think Belle And Sebastian are the dog's bollocks, then Monica Queen could just be your cup of tea.
***
Review by Pete Whalley

Return of the Sacred Heart
© 2005 Vertical Records. All rights reserved.