Just witnessed your best live gig?..send us a review!
MOLLY HATCHET
Morooco Shrine Auditorium, Jacksonville, Florida
5 August 2006
When I was 17, everyone I knew listened to Rock music on the radio. WPLJ, WNEW were the rulers of the airwaves. Between music blocks of The Rolling Stones, Led Zeppelin, and Todd Rundgren was a sprinklings of southern rock. ZZ Top, Blackfoot, Lynard Skynard and of course Molly Hatchet.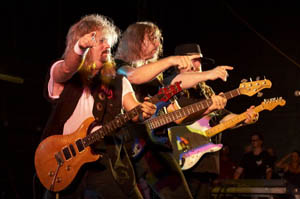 When Molly Hatchet carried on after their deep voiced front man, Danny Joe Brown left the band (his death a couple of years ago was a sad day for southern rockers everywhere) I did not have much faith that this band who's music I listened to and played in the early eighties was ever going to be near the same.
Chemistry is a tough thing to replace. Was the Who the same after Keith Moon passed away? My recent review of Queen, absent of Freddie Mercury was evidence of a bands life after a core members death.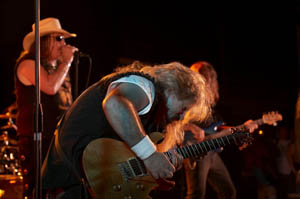 Molly Hatchet played in Jacksonville for the benefit of Daniel's Kids (charity event to raise money for programs for orphaned children) The bands lineup which includes original and founding member Dave Hlubek on lead and rhythm guitar, Bobby Ingram (lead guitar and the glue that has kept this band going for two decades), Tim Lindsay (bass guitar), Sean Beamer on drums
The room was full of Hatchet fans as the biker themed event was underway.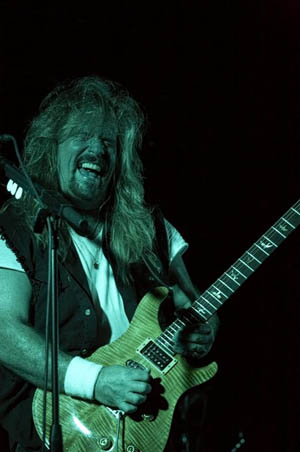 Speaking of bikers, the stereotypical biker has changed. I spoke to doctors, attorneys and bankers who were enjoying the music of a rich tradition that has evolved thru the last 3 decades but on this day in Jacksonville Florida, it felt like I was 17 again and everyone there had a connection.
The music was loud, the guitars screamed, the drums boomed and the vocals, while not Danny Joe Browns, did a decent job at reaching back thru the years to remind us of what makes up southern rock. Hard driving renditions of 'Beatin the Odds' and 'Flirting with Disaster' made pushing through the crowd worth the effort.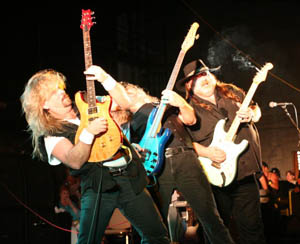 A tribute to guitarist Bobby Ingram's late wife Stephanie, who passed away tragically two years ago, brought out the lighters; fans waved them in the air as Bobby led the band through a vocal-less version of 'Layla'.
The band has aged and paramedics had to be called in after a near collapse for Dave Hlubek after the last song. I was backstage and it was so hot that a younger, thinner person could have passed out.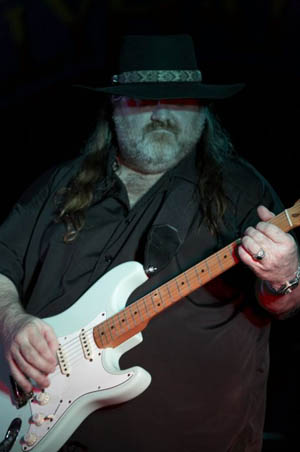 Hey, but thatís rock and roll, right? All said, Molly Hatchet after three decades still gets the job done and this reviewer got to relive those Southern Rock days if only for 90 minutes.
Review and photographs by Steve Janowicz
Related>> Album review