MOLLY HATCHET 'Take No Prisoners'
Gott Discs GOTTCD031 (2005) (35:48)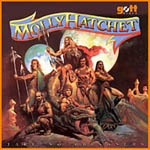 The southern rockersí fourth album, the second and last to feature vocalist Jimmy Farrar, has long been unavailable on CD and is very welcome here.
Originally released in 1981, Molly Hatchet temporarily moved from their southern rock roots, and here mixed more blues and rockíníroll. Lead track Bloody Reunion is a true Hatchet classic, and was kept in their live set for many years. Respect Me In The Morning features a duet with Mothers Finestís Baby Jean, and their beefed up take on Long Tall Sally is more than worth a listen.
While other tracks also stand out (check out the horns on Lady Luck), with Farrarís vocals strong if less whiskey soaked than his predecessor and the three guitar attack unique and rip roaring, the rest of the album is weak by Hatchetís standards; ordinary in too many places.
A great album, many highs, but hardly a classic.
***½
Review by Joe Geesin

Related>> Album review