MOHAIR Small Talk Eye Candy (2006)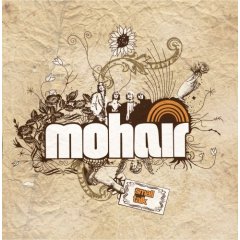 'Small Talk' is the much anticipated debut album from Hemel Hemstead 4 piece Mohair (Pete Baker - drums/trumpet, Tom Billington - guitars vocals, Alex Richards - keyboards/vocals, and Tim Slade - bass/vocals).
Mohair have been together since 2001, but 2006 looks to be their year. They've been getting rave live reviews, Small Talk is being much hyped, and they've just signed a deal Stateside that will see them on the same roster as Metallica, Muse and the Peppers.
Mohair are a glorious distillation of all that's bright about the current new wave of Brit Pop - it's a tsunami that started with the likes of the Coral and on which Kaisers and Monkeys are currently riding high. Make no mistake, Mohair are about to head the second wave.
Whereas the Kaisers roots lie with the Jam, and the Monkeys with punk, Mohair's roots lie deeper in the classic English guitar pop of the late sixties, but that said they are clearly a band of the moment.
'Talk Of The Town' and 'Life' open the album with swooping time changes, big choruses, multi layered vocals and trumpet thrown in for good measure. But the excitement really starts with 'End Of The Line' that opens with a jaunty musical hall Coral style, with wonderful vocal harmonies reminiscent of Queen, crunchy guitar riff and more changes of direction than a ferret with its arse on fire. It's magnificent.
It's followed swiftly with Disarray - swirling sixties keyboards, blues rock guitar and a massive chorus - all of which bring Georgie Fame to mind.
'Stranded' is a jaunty sing-a-long with a huge chorus, while 'Little Voice' is a perfect partner for the Monkeys' 'I Bet You Look Good On The Dancefloor'. Everything starts with a Sweet drumbeat before descending into a frantic number with an almost Springsteen riff.
'Thin Air' is a lovely ballad with harmonies reminiscent of The Beach Boys, 10cc and Queen. 'Keep It Together' has an early Queen guitar sound, almost prog time changes and magnificent vocals and harmonies.
And before you know it, the album closes with 'LA Song' - a song The Boss would have been proud of - delivered with Brit Pop aplomb.
****½
Review by Pete Whalley