MOHAIR 'Stranded (In The Middle Of Nowhere)'
(CD single) Eye Candy ECYCD024 (2005)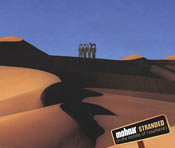 Highly-rated Mohair are like others, doing it their way, with the band's second single on their own Eye Candy label.
'Stranded' is classic, anthemic pop rock music that you can't help singing to whilst cutting yourself shaving or over-egging the eye-shadow. It purveys a distinct Englishness and a sublime doff of the cap to the band's spiritual sixties forebearers: like the bastard child of The Kinks crossed with early David Bowie, meets seventies glam-rock.
A trail for their autumn-scheduled album 'Small Talk' this is just the song to lift sagging summer spirits.
The additional track 'Everything I Want' sounds like Wilko Johnson on speed, difficult at the best of times I know, but essentially emphasising this band's cred as the next most likely to.
***½
Review by David Randall