MO FOSTER 'Southern Reunion' (Angel Air SJPCD163) (2004)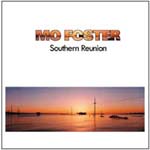 This is definitely one for the late nite, with the lights down low and a glass in hand. It's a natural successor to the previous Angel Air reissue 'Bel Assis', and possibly a tad jazzier, and first appeared in 1991.
Once again, Mo Foster assembled a stellar cast to give interpretation to his compositions. There's some excellent sax throughout from Iain Bellamy and Stan Sulzman and once again Gary Moore almost steals the show with some scorching guitar on the opening track, 'Gil'.
Foster is not afraid to explore a variety of musical themes, as on 'Bel'. Mo's informative sleeve notes tell us that on 'Achill Island' he attempted to meld the rhythms of The Chieftains with those of U2. In the main, he succeeded. 'Grand Unified Boogie' is more uplifting, with Ray Warleigh's flute and Ray Russell's slide to the fore. 'Shin-Kan-Sen' inspired by a Japanese tour with Jeff Beck has a theme tune quality to it. The bonus track, 'The Man From The Everglades' is another standout, a touching tribute to one of Mo's heroes, the great Jaco Pastorius.
Elsewhere, the album is a further testament to Foster's good taste and a credit that - some two decades on - the music has lost none of its power of seduction.
****
Review by David Randall


£12.99
The Man From The Everglades
© 2004 Angel Air Records. All rights reserved.