MITCH WOODS Big Easy Boogie Club 88 8801 (2006)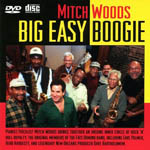 Pianist and boogie woogie fan Mitch Woods relocated to the west coast many years ago to establish himself as a leading light in the west coast swing, jump blues and of course boogie woogie scene.
'Big Easy Boogie' is an ambitious project in which he has cut an album and DVD to trace the musical roots of the above and sit in with the original players that put New Orleans on the blues map.
As Mitch dutifully explains in the interesting historical sweep of the DVD, musical masters guys such as drummer Earl Palmer, trumpeter Herb Hardesty and producer Dave Bartholomew - doubling on trumpet - were the core elements of both Fats Domino's band. Mitch incorporates the guests into his big band at the 2002 New Orleans Jazz festival for the DVD shoot to bring to life the Louisiana musical heritage, the de facto link between Jazz, Cajun and the nascent R&B, Blues and Boogie.
Mitch is also to be commended for his honesty, which stretches to a pivotal moment in the DVD when producer Bartholomew all but tells him he hasn't got Fats Domino's voice. And therein lies the problem of Woods career. An excellent and very versatile boogie pianist steeped in the Professor Longhair/New Orleans tradition and a confident band leader, it is his thin vocal style that has held him back from greater commercial success.
On the piano led, horn accentuated 'Counting the Days' for example, the mid range vocals mean the song can't stretch any sense of a dynamic. This is the exact opposite to the more successful boogie outing 'Crescent City Flyer', which demonstrates Mitch's considerable keyboard skills and is all pumping horns, and a tight rhythm section. The successful mix is repeated on 'Short Sweet & Tender' which is a tip of the hat to the roots of rock & roll.
Mitch shows his own New Orleans inspired musical roots on 'I Left My Baby at the Mardi Gras Cryin' and the album closes with a very clever historical rap 'The Ballad of Dr Daddy O'. In conclusion this is a well crafted and very interesting project and of interest to all heritage music fans, but at times perhaps the historical context carries more weight than the music.
***
Review by Pete Feenstra