MIND'S EYE Waiting For The Tide
Lion Music (2006)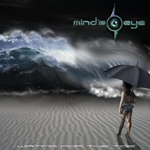 This is an album which I have tried really hard to love but have ended up just liking, having given it a lot of plays over a couple of weeks.
Swedish prog rockers Mind's Eye are new to me, but Waiting For The tide is a reissue (with a couple of added bonus tracks) of their second album from 2000.
There must be something in the water in Sweden for there's definitely a vibrant and inventive progressive rock movement over there, judging by the music of Mind's Eye and the wonderful A.C.T.
I've seen Mind's Eye referred to as prog metal, a label which I think is far too limiting for them on this showing. Yes, they do at times recall Dream Theater and Queensryche, but there's an emotional depth on display which sets them apart, an addictive melancholy.
They happily flow between genres, with the odd AOR moment and a jazzy, fusion feel to much of the material. I'm often reminded of some of Tony Banks' and Mike Rutherford's early solo work.
The opener Frozen Tears sets the tone superbly, an insistent, rhythm over the intro and verse which suddenly gives way without notice to a languid, swirling chorus. the effect is unexpected and startling, soul among the sandstorm.
But what follows surpasses even that. Calling (Father To Son) is a meditation on a broken relationship, a father pleading for communication with his absent son. Considering that most of the band were in early 20s when this was recorded, it is an astonishing feat lyrically and it is matched by the music, which floats lighter than air, pulsing and beautiful, supporting Andreas Novak's vocal as he wrings out every bit of emotion.
No surprise to learn that he has toured with Andrew Lloyd Webber's musical Jesus Christ Superstar, playing Judas. His voice is a powerful and emotive instrument.
A Pond Of Thoughts picks up the pace again, before leading to the two-part Spirits In The Room (Closer/In My Mind) which over a powerful 13 minutes recalls a bad repeating dream which Novak can't escape.
The first five tracks of this album are indeed something to love. But for me things tail off for a while half way though. The next three tracks certainly demonstrate the superb ensemble playing of guitarist Frederik Grunberger, bassist Johan Biemann and drummer/keyboard player Daniel Flores, but they can't match what has gone before in terms of depth, emotion and memorably melodic music.
It takes the penultimate track Circles In The Sand to rescue the situation, once again recalling the stirring, memorable first half of the album, Novak's vocal lifiting it back to the heights.
The two bonus tracks are a bit of an oddity, changing the mood of the CD as a whole. Endless Passages features their previous singer and shows that it was a wise move getting Novak on board, while Spellbound is an instrumental which, while very clever, overstays its welcome.
Waiting For The Tide is an album I will definitely return to and explore further. More importantly, I plan to track down their other releases, including this year's Walking On H2O, and see if Mind's Eye have fulfilled some of the early promise they showed on this outing.
***½
Review by Ian Harvey