More fusion flavours and funk...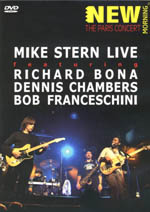 Mike Stern's musical pedigree stretches back to the early eighties when he performed in Miles Davis' band. Stints with Billy Cobham, Brecker Brothers and Jaco Pastorius further enhanced his reputation.
Captured at the New Morning club in Paris in November 2004 he's featured with a crack band including Richard Bona (bass,vocals), Dennis Chambers (drums) and Bob Franceschini (tenor sax).
If you like your jazz guitar raw, and your jazz rhythm funky, step right up. Like the other DVDs in this series, this is well filmed and perfectly recreates the up close and personal atmosphere of an intimate gig.
Sometimes compared to that other jazz fusion master Pat Metheny, Stern rips up a real storm in places, especially the opener 'Play'. Two of the five concert tracks are from 2001's 'Voices' album while two come from 1999's 'Play'.
'Slow Change' from 'Voices' has a damned infectious riff which is developed by Sanborn-esque sax from Francescini and Stern's delayed guitar lines. When he gets shredding with Bona's fat bass chords the results are quite wonderful. Ditto 'Tipatina's' which lifts what could be jazz funk muzak with its unbridled rock soloing. Bonus features include pieces from 1990 and 1996 and a conversation with Stern himself.****
Another Paris gig, this time in November 2002, features The Jazz Crusaders. This is the latest incarnation of the jazz-funk-to-rockers that - at various times - have seen Joe Sample, Wilton Felder and Larry Carlton in their ranks.
But, they are not there now, and this is essentially trombonist and original member Wayne Henderson's show. Only 'Street Life' recalls a greater heyday. **½
ROY AYERS is a legendary vibe player and In Concert captures the great musician in May 1995 for German TV. As you'd expect a superb group of jazz funkers provide backing and give Ayers the chance to really shine. The tunes, such as 'Running Away' recall a golden age of smooth jazz flavours, only female singers are conspicuously absent.
Anyone who loves jazz fusion would do well to look in. ***
Review by David Randall