MIKE d'ABO 'Hidden Gems & Treasured Friends'
Angel Air SJPCD156 (2004)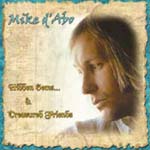 Mike d'Abo has, to some extent, forever lived his musical career in the shadow of Paul Jones. It was Jones whom he replaced in Manfred Mann and after that band folded in 1969 following a series of chart hits, d'Abo slipped off the radar.
This retrospective collection restores the balance and colours in the missing bits. By no means definitive, but it does bring together a large number of songs recorded in the early 70s when it seems d'Abo's musical direction was uncertain.
Lovingly restored from Mo Foster's attic, these tapes are in remarkably good shape and show that d'Abo was a talented songwriter, as much as a vocalist and frontman. The diversity of material shows that d'Abo was, by his own admission, searching for a musical identity. It is perhaps for this reason that these tracks gathered dust whilst the record label pushed out 'Broken Rainbows' in 1973. Only 'Fuel To Burn' made it to that album and you can understand why: it's the most adventurous thing on offer here.
If you like seventies pop music teetering on soft rock, you will warm to this which is very much of its time. In parts it recalls solo performers like Paul McCartney, Eric Carmen and - wait for it - Gilbert O'Sullivan. This is the one criticism, it's not that original. But thankfully, d'Abo's best-known composition 'Handbags and Gladrags' is included as a live bonus, and he receives excellent musical support from Mo Foster and fellow members of Affinity (Mike Jopp, Grant Serpell). Ace sessioners Jack Lancaster (sax), Ray Cooper (percussion), B.J.Cole (pedal steel) and Mike Moran (keyboards) also give this a quality feel.
Website
***
Review by David Randall


£12.99
Handbags And Gladrags
© 2004 Mike d'Abo/Angel Air Records. All rights reserved.