MICK TAYLOR 'Shadowman'
Alchemy Pilot 150(2003)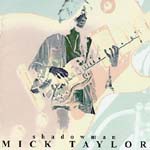 Mick Taylor will forever be remembered as a Rolling Stone, which it has to be said tends to overshadow his earlier incarnation as a Bluesbreaker and more latterly as an accomplished bluesman. 'Shadowman' is an appropriate title. It is the latter period that is in focus here, as Mick and company run through a polished set of funky American blues rock. The Stones legacy is not completely expunged, as there is a good and funky version of 'Honky Tonk Woman' but mostly this is an excellent double header (the second CD, an excellent and more bluesy live gig from 1995) which brings the story of this talented guitar player up to date.
'Shadow Woman' with it's pumping bassline, slippery slide, howling harp and girlie chorus is typical of what's on offer here whilst the bonus track 'Someday' rolls along with brass interjection and growling guitar. If you like the sort of stuff Taylor's mentor John Mayall has put out in the last decade, you'll find plenty to please here. The great musicianship and New York sheen have rubbed off to fashion an excellent, and relevant, restatement.
***
Review by David Randall

Shadow Woman
© 2003 Alchemy Entertainment Ltd. All rights reserved.