MICK RONSON 'Hard Life'
Alchemy STRTR167(2003)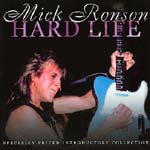 Guitarist Mick Ronson rose to fame as part of David Bowie's Spiders from Mars band. But Ronson is known equally as well for his long term work with Ian Hunter, first in Mott the Hoople and then as Hunter-Ronson, right up until Ronson's death in 1993. Much of the material here is taken from his mid-70's solo albums. Some gems in here like the epic instrumental 'Slaughter on 10th Ave', where Ronson's guitar skills really shine. 'Indian Summer' is another good guitar workout, from a later period in his career I'd say due to the 80's style keyboards featured on the track. There is a live version of Lou Reed's 'White Light White Heat', from the 'Transformer' album that Ronson helped co-produce.
A nice little selection of a sadly missed talent, maybe not the strongest vocalist but one helluva guitarist!
***
Review by Jason Ritchie

Hard Life
© 2003 Alchemy Entertainment Ltd. All rights reserved.
***** Out of this world | **** Pretty damn fine |
*** OK, approach with caution unless you are a fan |
** Instant bargain bin fodder | * Ugly. Just ugly