MICHELLE SHOCKED 'Threesome'
Mighty Sound MS3333(2005)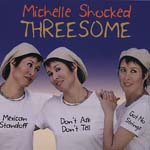 This trilogy of new Michelle Shocked albums is only a taster of what's to come. Michelle has decided to try her hand at as many different styles as you can shake a stick at. Here we find not three, but four – Mexican, blues, rock (?) and Disney. And there's a further three in the creative pipeline including gospel/electronica, New Orleans jazz and a tribute to Blues pioneer Memphis Minnie.
Now with such a broad church, there should be something for everyone. But could it possibly be everything for someone? As if anticipating the question, Threesome is released in triple-digi format for diehard Shocked fans and as three separate albums – Mexican Standoff, Don't Ask Don't Tell and Got No Strings for those who haven't got the stomach for all three courses.
Michelle is, of course, well known for covering a variety of styles from her punk/alt –country roots to swing. Here, first up here is Mexican Standoff – the first 5 tracks being Latin/Mexican and the second 5 blues. And the surprise is that it's fairly traditional stuff – Michelle's vocals mixed well up with some wonderful (if you like that sort of thing) trumpet from Rich Armstrong.
Basic production is by Los Lobos Steve Berlin and Mark Howard on the blues numbers. Producer of choice Dusty Wakeman (Dwight Yoakam) making sure it all fits together. It has to be said, the performances and the production are first class. But it equally has to be said that this isn't going to be everyone's cup of tea. But if 'traditional' is your cup of tea, it's well worth a listen. ***
Next up is Don't Ask Don't Tell which is described as a 'rock album full of guitar and guts'. Well, I don't know what rock they've been listening to, but its not Iommi and the amps certainly haven't been turned up to 11.
The opener Early Morning Saturday is more trad/jazz. How You Play The Game thankfully moves into more familiar American AOR radio territory with a distinct Lou Reed feel, and Don't Ask is reminiscent of Robbie Robertson.
Elsewhere we get electric blues (Used Car Lot), more jazz, ballads, funk and punk. Again its wonderfully played and produced, but who wants chilli powder in their cheesecake? OK on an ipod on random with the rest of your collection, but as a single collection, I have my doubts. ***
Which brings us to Got No Strings described as a 'playfully animated work [which] re-imagines songs from Disney films – as western swing numbers'. As someone who doesn't regularly have Disney film soundtrack albums slapped on my turntable, they all sounded pretty standard interpretations to me, albeit with a western 'swing' feel.
I mean, how different can Wish Upon A Star be? Not very, is the answer. There's nothing here that you wouldn't instantly recognise and I seriously doubt that many will want to indulge (no matter how well played and produced it is). **
Review by Pete Whalley
Bitter Pill
© 2005 Mighty Sound. All rights reserved.