MICHAEL McDONALD The Ultimate Collection Rhino/Warner (2005)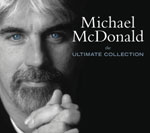 Michael McDonald of course came to light with the Doobie Brothers and some of that band's hits are on this collection as well, so its not just McDonald's solo output. You get other hits including 'Ya Mo B There' (a duet with James Ingram) and 'On My Own' with Patti LaBelle, plus 'Sweet Freedom', 'I Stand For You' – nineteen tracks in all is a good spread across a long and successful career.
You can't fault his smooth vocals and he is good at the slower, soulful tunes but personally that's not my cup of tea. A comprehensive collection though, complete with informative sleeve notes and McDonald chose the track listing. All in all a good selection of Doobie Brothers and solo/duet tunes, which with its mixed musical styles will please the casual buyer/fan who this compilation is presumably aimed at.
***½
Review by Jason Ritchie