MICHAEL HARRIS 'World's Collide '
(Lion Music 2003)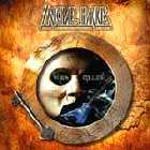 To be honest with you I've never even heard of Michael Harris before i received his new CD "Worlds Collide" and that made me happy - not only because i was about to discover a new artist (which is always a good thing) but also because it would be much easier for me to be objective with my review. Michael grew up in a musical environment, being the son of two master musicians. His father introduced him to the magical world of Jazz and his mother was in charge of his education in Classical Music. Both of those influences can easily be traced throughout his career.
I knew that Michael had previously released four instrumental albums and that "Worlds Collide" would introduce him, for the first time, as a singer . And as if that wasn't enough, he didn't ask any musicians to participate in his new project but he decided to play all the main instruments (Guitars, Bass and synthesizers) except for the drums, a position which was successfully filled by his brother, Brian Harris. He also made the production of the album (if that's not impressive, then i don't know what is).
I think that he made a wise choice since "Worlds Collide" proved to be an album full of great melodies and high energy. He is obviously not the best singer around, but he is an artist who knows his limitations and delivers passion with his music.
After a short intro called "Shockestra" comes a really good song called "Wash My Soul Away" which will remind you allot of Dream Theater. The choice of sounds and melodies will impress you allot and definitely give you an idea of what's to follow. "Mask Of Deception" begin with an impressive hard rock solo and continues with a well- composed riff. By that stage i knew that "Worlds Collide" will be flirting with my CD player for a long time.
A nice classic guitartheme will introduce you to "Myopia", a very interesting song indeed. Then it's time for one of my favourite progressive songs of the album, the same titled "Worlds Collide", a song with a great refrain which i plan on singing for a long, long time.I really loved the guitar and vocal work on "Tears Roll Down". Things will slow down with "Mr.Strange" a song based in acoustic guitars, only until the very first notes of "Prosthetic Brain". The complexity in the melodies of this song reminded me of Mekong Delta, one of the best progressive bands in the world (I will not be amazed if I was to find out that Michael is a big fan of their music).
There are also moments of more mainstream accessibility such as "Into The Spiral Rain". If you think that you heard everything by now, "Mandy Slang" will prove you wrong. "Incarcerated" is another fast and heavy song, but if there is one song that I liked the most from this album that's "The Cozmic Desert", a song which released all of Michael's talent - well done. The last song of the ordinary release, "Battle Fatigue, is a nine minute tribute to progressive and melodic hard rock music, and the best way to finish a successful album.
This CD contains a bonus track called "Coffee With Mozart" a song once again based on acoustic guitars.
If you like commercial music you'd better forget about this album. If on the other hand you can appreciate quality music regardless of your music preferences, this album is for you.
****
Review by John Stefanis