MENNEN 'Freakzoid' Escapi (2005)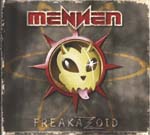 Four-piece Dutch based band who have been working on this, their debut album since 2003. The band features vocalist Joss Mennen, formerly of Zinatra and he has also worked a session singer/musician for the Scorpions, Craaft and Danger, Danger.
Musically the album has plenty of variety from the heavy funk basslines on 'Rain' (reminiscent of Glenn Hughes) to the hard rock of 'Down' (complete with whistling!). In fact the latter is what ex-Europe guitarist Kee Marcello tried, but ultimately failed to achieve with K2 namely mixing the classic hard rock sound with modern/alternative rock sounds.
The epic balladry of 'Believe' is a highlight featuring some neat guitar and bass parts, whilst the title track gets the harmony filled chorus treatment. The only slight downside is the three bonus tracks that are okay but nothing stands out.
Very accomplished debut album and one that keeps classic hard rock elements sound wise, whilst adding modern production and an alternative edge to the overall sound. Keep an eye on Mennen as they could be onto something good...
***½
Review by Jason Ritchie