THE MAVERICKS (Silverline)(2003)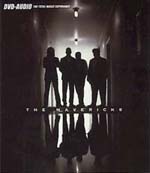 I'm at a loss for words or to quite know what to make of this album. Gob-smackingly polished, and beautifully constructed that's for certain.
And if vocalist Raul Malo isn't Roy Orbison resurrected, I'll eat my banjo. The album reminds heavily of latter day Roy circa his Mystery Girl and Travelling Wilbury's phase. And that's no bad thing.
So where to start? Well, of sorts, this is a come-back album. After five years of solo projects the Miami based Mavericks return with their 6th album and a new guitarist - Eddie Perez.
If you've not heard the Mavericks before their forte is intense ballads with driving force Raul Malo's vocals conjuring images of Elvis and the big O. They rest somewhere between country, rock and dance (Latino / samba variety - not 'trance' - mind you, the Mavericks on acid, now there's a thought!).
But several plays (it's one of those discs that make you want to come back for more - even if you're not quite sure why) reveal some real depth and toe tapping tunes.
The 'extras' don't amount to much - the video of Would You Believe, lyrics and a retrospective interview interspersed with studio rehearsal snippets.
So despite usually being filed under 'Country' this is cultured mainstream pop for the older generation. And despite not feeling that 'old', it's hard not to like this album. There's nothing not to like about it. And of its kind, it's quite excellent. So if the Mavericks are your cup of tea, or you're feeling too old to rock 'n' roll, go for it. (Now, where are my Roy Orbison albums ... )
In My Dreams
© 2004 The Mavericks/Silverline. All rights reserved.
****
Review by Pete Whalley